About Chinese Water Deer
| | | |
| --- | --- | --- |
| England | Date From | Date To |
| Chinese Water Deer (Buck and Doe) | 1st November | 31st March |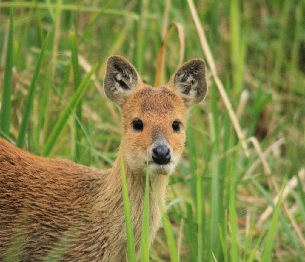 The Chinese Water Deer originates from China and Korea, and is associated with lush riparian or swampy habitats. Smaller than Roe Deer, the males have elongated upper canines and no antlers. Chinese Water Deer were introduced to Woburn Park, Bedfordshire, in 1896 and Whipsnade Park in 1929-1930. Deliberate releases and escapes have resulted in the species becoming established in the wild since 1945, originally around Woburn then gradually expanding its range. The Chinese Water Deer (both sexes) may be shot from 1 November to 31 March.
Key Information
Rates
Prices on application
Can a Rifle be provided
Yes
Accommodation
Generally we organise accommodation for your stay at whatever level you prefer from self catering to 5*.
Ammunition
Ammunition supplied subject to availability
Suggested Calibre
.22 – 250 or above.
Permits Required
All required permits arranged at time of booking.
Nearest Airport
Dependant on location of shoot.
Flights & Bringing own Firearms
Please consult with Hendry, Ramsay & Waters at time of booking for up to date airline carriers that allow firearms to be transported.